This post will show you how to install Divi on a WordPress website. I'm in the middle of creating a new website for a client, and I thought maybe some people just downloaded Divi but don't know what to do with the files or where to put them. 
How to install the Divi theme on a WordPress website
In this post, I will run through how to install the Elegant Themes Divi WordPress theme and activate it on your website. 
1. Download the Divi theme files
The first thing you have to do is go to your account. You need to purchase the theme to download it. This is the pricing table below. 
I would highly suggest lifetime access. You get unlimited updates, and they publish a new theme every week. It's great. I couldn't imagine justifying $89 a year when you can have lifetime access. I love this theme, and you can see that many other people do as well. Click here to check out Divi.
If you already have an account, go to account, click member, log in, and scroll down to download the Divi theme. So we're going to go ahead and click download. The file will then be saved to your computer.
2. Upload the unzipped file to WordPress
The file that is downloaded will be a zip file. It's the actual file that you're going to put inside your website. Don't try to open or extract the file. We will be uploading the whole thing—unzipped.
Next, go to your WordPress website's backend dashboard, go to appearance, and right-click add new. Then click upload theme and select the Zip file you just downloaded.
When the theme installs successfully, it will say "Theme installed successfully."
3. Activate the theme
The final thing you have to do is activate the theme. Just click activate after the file finishes downloading. That's it.  
4. Preview the front end of the website
Now we have the theme installed on our website. Looking at this website on the front end, we will see that the theme is successfully installed.  Of course, there's nothing on this theme. You have to create something with the Divi builder o see anything of substance. 
What's the difference between the Divi Theme and Divi plugin?
There's also the Divi plugin. But what's the difference? The Divi theme is a complete theme that you install on a WordPress website. WordPress can only have one theme activated at a time. The plugin will allow you to use the Divi page builder features on different themes. So you could be using, for instance, the Astra theme or a completely custom theme that you had a web developer create for you.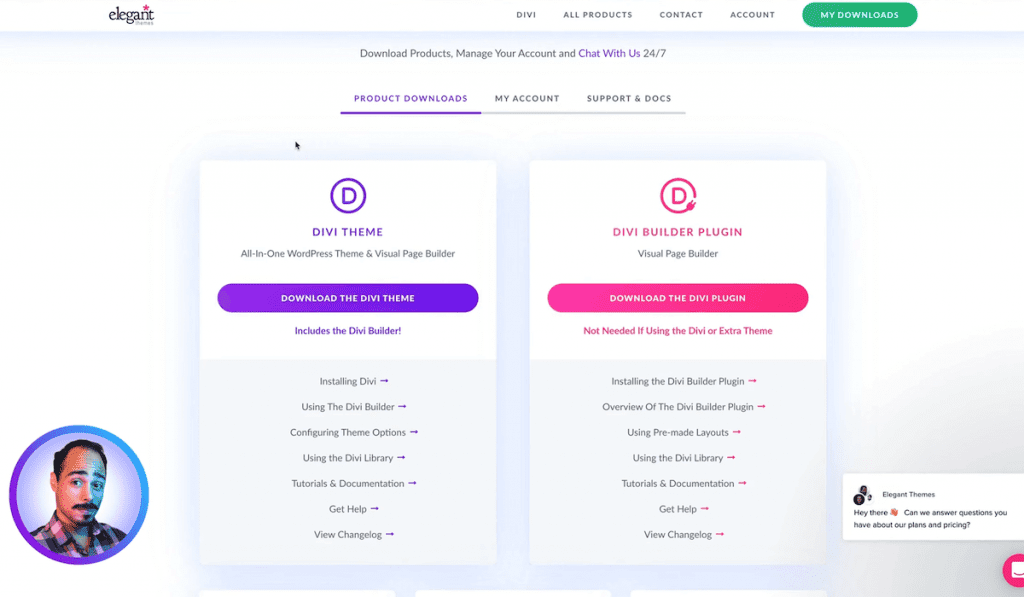 So, if you're accustomed to using Divi but need to use a different theme, you can download the Divi builder plugin and start using Divi just like you would if you had the theme installed.
I don't know if the Divi builder supports the theme builder functionality that the Divi themes do. For example, with the Divi theme, you can edit the archive pages and all kinds of pages that are made automatically. I don't know if the Divi builder will allow you to do that.
There are also a couple of other things you can download. They come with your lifetime access or your annual access.
Extra
Extra is another WordPress theme from Elegant Themes. It's a newspaper theme. I've tried it, and I don't love it. It's okay, but you can find better out there.
Bloom
The Bloom. I've never downloaded or installed Bloom, so I can't say too much about that.
Monarch
Monarch is a social share plugin. It's a little limited in its capabilities. You can find other free software that does a much better job than Monarch because you just can't customize it as much as you want it to. Right out of the box. You'd have to use a lot of custom CSS.
Are you a visual learner? Check out my video below, titled "How to Easily Install Divi Theme on any Word Press Website," from my YouTube channel, as I show you all this firsthand.
Frequently asked questions (FAQ)
Do you still have questions? Below are some of the most commonly asked questions about making a WordPress website.

Is Divi better than Elementor?
Not necessarily. Elementor and Divi both provide fantastic templates to help you construct your websites. If you don't want to create each page individually, you may utilize Elementor's comprehensive website kit. However, Divi has its own template library, and it has a lifetime deal.
Why is Divi so popular?
Divi's template library and page-building tool are perhaps its two greatest attractions. If you want to construct a bespoke WordPress website design from scratch, you can easily do it with Divi.
Is Divi better than Gutenberg?
Divi has way more features than the standard Gutenberg blocks. However, Divi is a bit bloated with code, which can slow down your website. And Gutenberg is free. So it depends on your budget and preferences. But, generally, yes, Divi is better.
Conclusion
Ok, so that concludes this article. What do you think? Let me know in the comments below (I read and reply to every comment). If you found this article helpful, check out my full blog and be sure to subscribe to my YouTube channel. Thanks for reading!