If you're having problems synchronizing your audio tracks in Premier Pro, I've got a quick fix.
I'm in the middle of editing a video, and I have two tracks. One is a screen recording, and the other is a recording for my camera. And both of them have audio, and I want to synchronize them so that whatever I'm doing on the camera will be in sync with whatever I do on the screen.
So you would usually see you synchronize right here, but suddenly, it's not showing, right? That's a problem. How do you fix that? So here's the solution.
Make sure that the tracks you want are selected over here. To ensure they are the only ones selected, I will unselect all the tracks and select only the tracks I want to synchronize. So you want to synchronize, right-click, and then you'll see that synchronize shows up, and that's it.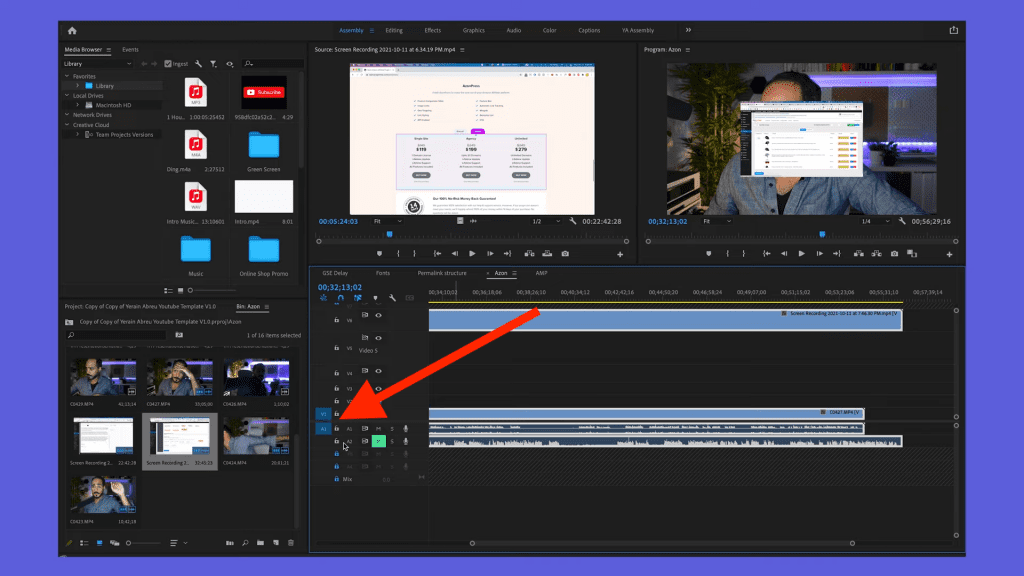 So make your audio the one that's selected. Click okay, and it'll start to try to line up the audio waves so that those tracks are synchronized. That's all I've got for you today. Super-quick post just in case you're having this problem.
Are you a visual learner? Then, check out my video below, titled "How to fix audio synchronize issues in Premiere Pro," from my YouTube channel, as I show you all this firsthand.
Frequently asked questions (FAQ)
Do you still have questions? Below are some of the most commonly asked questions about Premier Pro.
What is Adobe Premiere Pro?
Adobe Premiere Pro is a professional-level video editing software that allows users to create, edit, and publish high-quality videos for various platforms and devices. It can be used for various applications, including film and television post-production, YouTube content creation, and corporate video production.
How does Adobe Premiere Pro compare to other video editing software?
Adobe Premiere Pro is considered one of the most comprehensive and powerful video editing software. However, it may have a steeper learning curve than other video editing software. Still, its feature set and integration with other Adobe applications make it a strong choice for those who need a robust video editing solution.
Is Adobe Premiere Pro available for use on a Mac?
Yes, Adobe Premiere Pro is available on both Mac and Windows computers. The software is cross-platform and can be used on either operating system, allowing users to work on projects regardless of their preferred hardware setup.
Conclusion
That concludes this article. What do you think? Let me know in the comments below (I read and reply to every comment). If you found this helpful, check out my full blog and subscribe to my YouTube channel. Thanks for reading!